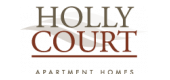 Your Review
Submit a Review

Resident Reviews
|Recommended: YesGood apartment, bug problem mouse problem is a bit annoying though. — Been living here for almost a year, It's a great apartment complex, but we have a regular problem with bugs and mice which has yet to be fixed. Better off going to the office directly rather than attempting to email call them.
|Recommended: NoWalls are thin, plumbing terrible and loud — When my upstairs neighbors walk, I hear every step and their walking around and morning routine woke my guests. When the upstairs shower is running there is a terrible sound made and it is beyond the running water sound. It's a grinding noise. Twice my apartment was flooded with sewage backup.
|Recommended: YesCan't beat location the property is nice, too — We really like living at Holly Court. The location, ease of parking, walkability of the neighborhood, and ability to open our front door and get outside are all great. Maintenance and office staff are very nice and the place always looks good. You can definitely hear your upstairs neighbors, but we're pretty low key so we don't mind hearing general life noise. If I had any issues, it would be that the appliances are definitely dated in the unrenovated apartments, and we did have some delays early on in getting repairs done. Turned out to just be miscommunication so it was all good. If you want to live here, make sure you're cool with the sounds of neighbors and don't mind doing a little self-advocacy if you need something done. Neither are deal breakers for us and we're super happy to have moved here.
|Recommended: YesIt's ok — Nice and quiet
|Recommended: YesGreat place to live in Pitman — I was at the East location. The neighbors in my section were great, always friendly and helpful. Maintenance consistently responded promptly to any requests. Location is very convenient to shopping, restaurants, and other services. Overall, I was very happy to live at Holly Court East and would recommend renting here.
|Recommended: YesNice quiet apartments — I would recommend Holly Court to people looking to move to an area that is quiet and well put together. Only issue is that it's hard to get in touch with the leasing center. I wish there was more availability to get in touch with them. But overall, nice apartments.
|Recommended: YesComfortable,peaceful,friendly staff. — I enjoy living here, affordable and managed well with good communication.
|Recommended: NoMaintenance response needs improvement — Tenant maintenance concerns go unanswered. Can hear tenants coughing arguments through floors
|Recommended: Yes. — It's good Great location, clean, friendly.
|Recommended: YesGreat place to live — .
|Recommended: YesI think the property is well maintained and kept in order. — I would tell them that it is an affordable, quiet, and enjoyable place to live.
|Recommended: YesGreat apartment, happy with the area and pricing. — Solid walls so sound doesnt get through too much, nice rooms, clean, up to date.
|Recommended: YesNo working maintenance — I live in Holly court apartment. The maintenance gay give us hard time always. I pay extra for washer and dryer. It doesn't work washer 10 days ago. I submitted ordered every single day. But no body fixed my washer mashine 10 days. Just yesterday maintenance gay he is superviser came to my home. He changed my washer mashine. He put in different washer mashine but very mess and very old. 2 times working and than stopped. It doesn't work again. I call office and talk to maintenance guy. He said not emergency, today is Saturday you can use landromat. I dont want to use landromat covid-19 times. I dont understand. If rent 1 day late, they take late fee and i pay extra money for washer and dryer. They dont fixed 10 days And maintenance very rude. I will call township to monday. I will complain everwhere. I am sorry my language not well.
|Recommended: YesYou get what you pay for — Pricey but worth it. you have to watch the summer electric bill as it is insanely high due to outdated undersized inefficient units, but overall id say living here is pretty nice. no college kids parties or nuisances of neighbors. if you want to be left alone, this is about as good as it gets.